Plant facing on waterproofing
By ballasting our moss mats with pebbles or pozzolan, it becomes possible to green a terrace completely independently of the existing waterproofing and without modifying the structure of the building given the low weight load of the materials.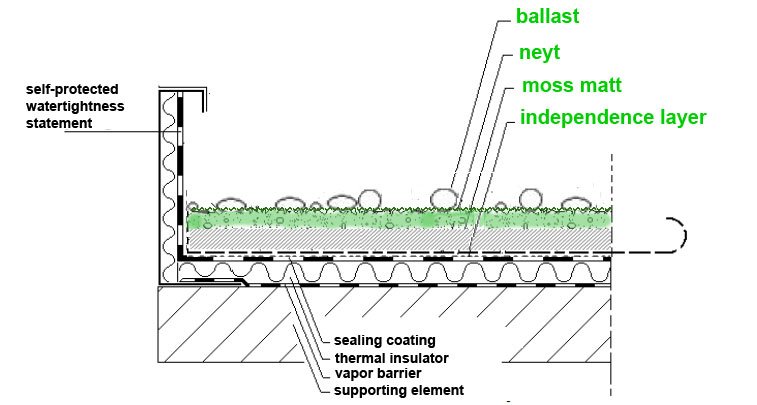 Advantages of the solution:
Lightness : 10 kg/m² dry, 23 kg/m² wet, no modification of the structure to support the weight of a green roof (80 kg/m² minimum)
Complete Independence with respect to waterproofing and construction, the ten-year period is not called into question,
Limited maintenance: contrary to popular belief, moss resists drought well, it dehydrates completely and can thus remain dormant for several weeks. The other plants require a substrate and do not tolerate drought periods well,
Good water retention: about half of the rainwater is retained by the mats, it does not go directly to the drain and contributes to the reduction of heat islands,
Ease and speed of installation,
Possible access to sealing.
Implementation principles:
A waterproof company puts in place protected waterproofing in accordance with DTU 43: "Waterproofing of Roofs".
The installer (possibly BRYOFLOR) installs a green facing according to the recommendations of the "General criteria for the choice of materials" of DTU 43 and "the professional rules for the design and construction of terraces and green roofs" of ADIVET,
The plant facing, independent of the building, does not require the intervention of a control office,
There is no ten-year guarantee on the plant facing, but the ten-year waterproofing guarantee is fully applicable.